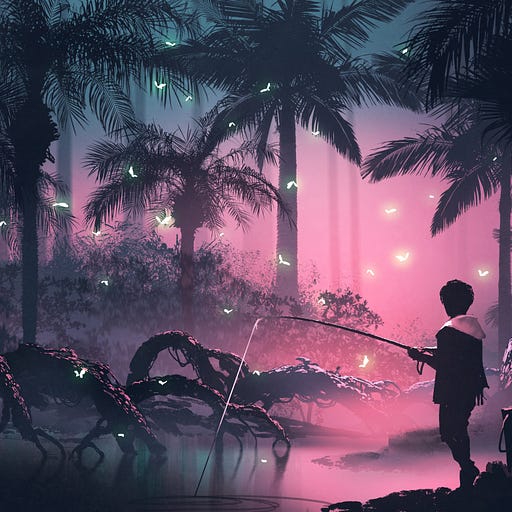 Jun 18 • 9M
Serializing a Novel Online | 1st Annual Storyletter Writing Contest
June Newsletter | 11 Months
Your favorite stories from The Storyletter now in audio!
Welcome to a new, exciting month of The Storyletter Substack!
I had predicted—based on steady growth —that we'd make it to 150 subscribers by July (our one year anniversary), but recent spikes have now placed us one month ahead of schedule. One of these spikes was The Great Substack Story Challenge where a group of fiction Substackers are co-authoring an improv serial fiction story each week. My chapter has yet to be written, as I need to see the chapter ahead of mine coming later next month, but the cross promotion aspect of it has already sent a few folks our way.
There's a lot developing here at The Storyletter. I feel like a say that every month now, but it's true! We've got a contest launching soon (more on that below), and we would love to see you participate. With free fiction and audio stories, an active writing community, insights into my publishing journey, and monthly indie newsletters, we hope you find something worth your while!
Serializing a Novel Online
As some of you know, I finally finished publishing my fantasy/horror/comedy entitled "Crocodilian" a few weeks back. I'm beyond thrilled about this, but not for all of the reasons one might think. See, Crocodilian was supposed to be a short story that only spanned six weeks, with a chapter releasing each week, and it sort of evolved into a reptilian monstrosity that lasted over ten months.
That's not to say I'm not happy with it, I think I did it and the readers as much justice as I could manage while discovery-writing the story—plot holes notwithstanding. The mission to deliver the best story I could with what I had set up was basically my main driving factor for finishing it. Also, the feedback here on Substack and over on Royal Road was very motivating.
Story aside, here is what I found by accidentally publishing a 55k word novel online chapter by chapter:
What Not To Do
Initially, the Crocodilian was a 3k word short story. I decided that I hadn't produced something true to my original vision, so I set out to rewrite it. I plotted out a six-chapter outline that would push a 10k word goal, then I started writing. I got three solid chapters done and said, "Hey, you know what? I'm ahead of schedule, I'll just start posting."
And well… that didn't turn out so great in hindsight.
By week six, I knew that the story had so much more to it that needed excavating. So, I plotted out another six chapters in order to end it on a climactic action scene (which are my favorite things to write).
The problem here, however, is that I caught up to my weekly posts and therefore I needed to then write, edit, and revise entire chapters roughly every seven days while also managing the rest of the Substack.
I quickly discovered that I couldn't keep up with this pace. The chapters lagged into two week and, at times, three week territory. This was extremely demoralizing as it potentially put off readers due to the lengthy pauses in-between posts. Side note: I was publishing on (Substack), Medium and Royal Road at the same time.
My advice here is to not discovery-write a serial unless your readers are aware of the context in which you're publishing it. I think if I only had to worry about Crocodilian each week, it would have been fine. I wrote my first novel on Wattpad serially over the course of a year, inconsistent weekly posts and all, and readers were still happy by the end of it (because I was up front about the process).
What I Recommend
Write ahead of schedule, or simply complete the story altogether.

The real kicker was the fact that my story wasn't completed before I started publishing. The twelve chapter outline—the one that eventually became twenty-five chapters—would have worked itself out behind-the-scenes beforehand.

Stay consistent.

This one is hard to do, but I think having one or two days a week reserved for your serial posts helps readers follow the progression of your story. Since I didn't follow this myself, I'm not sure how much this affected the experience of "Croc". One thing I do know is it would've been published over the span of four months instead of ten.

Edit, revise, edit, revise.

I can't stress this enough. One of the major reasons why I couldn't meet the weekly goal was due to my newly-adopted revision process. I read my chapters a minimum of five times before publishing (and on different screens in different word processors), in addition to one pass through out loud so as to make sure it sounded correct. Of course, there's always something that slips through, but trust me, this elevates the quality to a whole new level.

Post on various sites and share each chapter on social media.

I noticed that I would get more readers the further along I went. When I'd post a new chapter (on social media), I would add a little snippet detailing an exciting new aspect of the adventure, all the while promoting that it wasn't too late to hop aboard the story train. People would open the link and then click on Chapter 1.
An Example of What's Working
If you'd like to see a great example of a serialized novel, go check out The Problematic Pen's historical fiction novel "Of Wind and Wolves". J.M. Elliot has woven a compelling tale that has kept my interest right from the start. Plus, the historical and anthropological posts flanking the chapters really add to the depth of the story itself. Here is a quick synopsis:
On the ancient Ukrainian steppe, an aspiring young Amazon finds herself a pawn in the schemes of powerful men, but deciding her own fate will mean confronting the dark consequences of war and the true meaning of sacrifice.
Summer Contest Announcement
I'm excited to announce the 1st Annual "Storyletter Summer Short Story Submission Sweepstakes" or "S6" (working title so let me know if you hate it.) I've been hammering out the details with several close writing colleagues over the past month and I think we're ready to host our first writing contest. I'll post a separate announcement later in June with all of the rules, but I'll give you a brief overview so you know what to expect.
It will likely run from July to August for 30-45 days.

It's a short story contest between 1000-5000 words.

The theme won't be released until the upcoming Rules post.

There will be 1 winner and 2 runners up with a small cash prize.

Entry will remain free with the caveat that you are also a free subscriber.

There will be a panel of judges for deciding the winners.
The idea here is to drum up some excitement for the one-year anniversary of The Storyletter by doing something fun and inclusive within the community given that the whole point is to share stories and highlight under-recognized top performers in the industry. I really hope you share this with family and friends who are aspiring writers and we have a blast with our first ever contest.
Interview with M.S. Arthadian
This month, I had the privilege of being invited on the Arthadian Anthologies podcast as a guest. It was my first ever interview and despite the fact that I was speaking very slowly for some reason, I think it turned out pretty well. Matthew, who runs the podcast and is the creator of the Reborn in Power table-top RPG, was very patient and asked some great questions. We've got some projects in the works and I'm looking forward to announcing them in due time.
New Merch Available
Head on over to The Storyletter Gift Shop! We've got an eco tote bag, 4 T-Shirts, and a new mug design this month.
Songs
Dan + Shay - One Direction:
The Ghost Club - Same Graves:
In case you missed it:
I Want to Dream in Color (Poem) by Yamaguza
Glass Tower (SRA) by Winston Malone
Crocodilian ~ Chapter 23 (Serial) by Winston Malone
Crocodilian ~ Chapter 24 (Serial) by Winston Malone
Crocodilian ~ Chapter 25 (Serial) by Winston Malone
To Build a Habit (XPress)
Storyletter Meet & Greet: Introduce Yourself!
Tele-Prompt #2: You've Been Beached…
Storyletter Thoughts: Art & Writing